Web Search powered by
YAHOO!
SEARCH
Tucson Coin & Autograph
6350 North Oracle Road , Tucson, AZ 85704
520-219-4427
Business Overview
Special Offers & Events
Our weekly silent auction is always lots of fun. Come alone or bring friends. it's a great …
Write us an email and let us know that you would like to be a part of our email list. Sign …
Come by today for your free appraisal. Stop by today! 6350 North Oracle Road Tucson, AZ 857…
More Offers & Events
Find Us
Video Profile
Recent Videos
More About Us
Business Description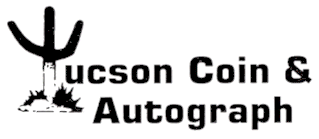 Business Name Tucson Coin and Autograph has been buying and selling coins, gold, silver, and currency since 1974. Here at Tucson Coin and Autograph, we are the premier place to buy and sell historic autographs and coins. Many companies want to just buy from you, or sell to you; we are very competitive and can do both. We have 35 years of experience and locally owned and operated. Brett Sadovnick is an award winning numismatist.

Prices are subject to change. All items are subject to prior sale.


Member of:

•ANA
•PCGS
•Coinet
•NGC
•The Manuscript Society
•ICTA
•Tucson Chamber of Commerce
•Better Business Bureau