Renstore.com
Serving the Online Renaissance Community , Tucson, AZ 85715
520-721-8346
Business Overview
If you feel like you were born in the wrong time or just prefer to not limit yourself to living in the 21st century, visit us at Renstore.com!

Step into Renstore.com, the Renaissance Store and shop our large selection of medieval and renaissance costumes! We offer accessories, armor, and other clothing as well as wedding ideas in sizes from very small through 3-4x!

Renstore.com is the place to find what you need to make your fantasy costume a realty! Whether you are into drama, the SCA, live action role playing games, the Renaissance Festival or faire or even masquerade or Halloween costumes; we have what you're looking for!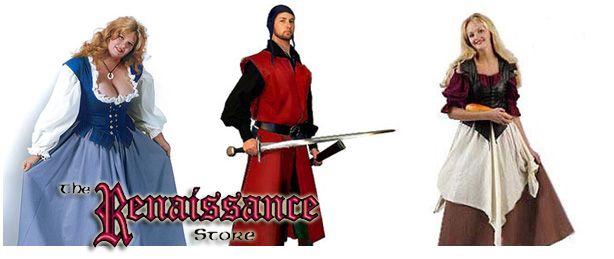 We have been active in the Renaissance business for more than 20 years. We began as Chivalry Sports Videos in October of 1991. All we had to sell then was just one video about the SCA called "Once Upon a Weekend" on VHS. No one had even heard of the Internet then, so we published a small catalog. That led to selling videos for Belly Dance instruction and audio tapes of filk music and a few other things. In a short time we added a few articles of clothing, belly dance jewelry, and books. Four years later we created the first online catalog for Medieval and Renaissance Clothing on AOL. In fact we were one of the first clothing stores of any kind on the internet. When we moved from AOL to our own domain, we changed the name of the online store from Chivalry Sports to Renstore.com because it was easier to spell. In 2009, we redesigned our web-store and moved to more secure cloud computing. Now we are stronger and faster than ever. See more here!