Web Search powered by
YAHOO!
SEARCH
The True Historic Tucson Experience!
Old Town Artisans
201 N Court Ave , Tucson, AZ 85701
520-623-6024
Located in the El Presidio Historic District is the little city block of Old Town Artisans.  The 150 year old adobe building has 6 distinctive shops and galleries which feature fine art and craft from hundreds of local and regional artists, Indian jewelry and craft, jewelry – both couture and trendy, home décor, South and Central American craft, and more.  The Spanish-style courtyard and patio offer a relaxing place to enjoy lunch or a beverage from the cantina amidst regional plants and trees.  The restaurant also has indoor seating in the converted 1920's gasoline station and Mexican Cantina.
You will find more information on our historical background, magnificent shops, and our popular indoor/outdoor lunch setting throughout our website.  Don't forget to check our schedule of events!
 Shops
September - May
Monday – Saturday………… 9:30am to 5:30pm
Sunday……………………. 11am to 5pm
June – August
Monday – Saturday…… 10am  to 4pm
Sunday………………….…. 11am to 4pm
Restaurant
Tuesday – Saturday… 8am to 10pm
Sunday & Monday..… 9am to 3pm
Phone & Information
General Info: 520.623.6024
Concert & Event Info: 520.622.0351 or 1.800.782.8072
201 N. Court Avenue
Follow us on Facebook
Come visit us and check out all of the beautiful pottery and art we have waiting for you in our shops!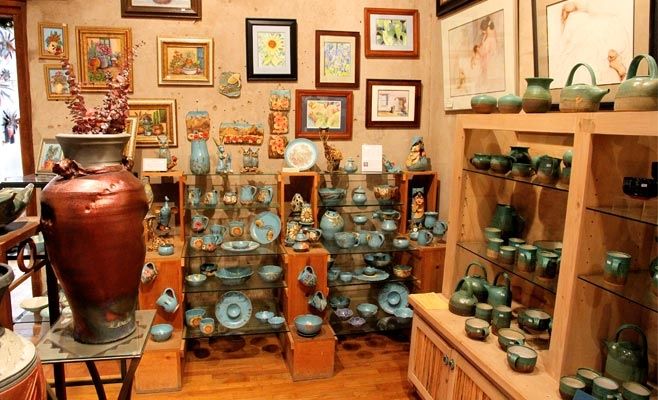 Phone & Information
General Info: 520.623.6024
Concert & Event Info: 520.622.0351 or 1.800.782.8072
201 N. Court Avenue
Tucson, AZ 85701
info@oldtownartisans.com
Follow us on Facebook