Today, more individuals and families are making the decision to prearrange their funerals than ever before. Because of the factors such as inflation, fewer extended family members living close by, and other changes in our society, planning your own funeral can make a lot of sense. In a recent survey, these were the most common reasons people gave for prearranging their own funerals:
• Let's your wishes be known.
• Reduces stress for friends and family at an already emotional time.
• Saves money
• Guarantees your family will never have to pay more for your funeral - no matter what happens with inflation.
• Shows you care.
• Relieves your loved ones of the financial responsibility.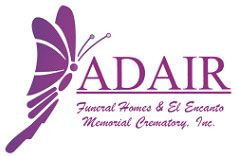 Adair Funeral Home
THREE CONVENIENT LOCATIONS:
Dodge Chapel - Phone: (520) 326-4343
1050 N. Dodge Blvd., Tucson, AZ 85716
Carroon Mortuary - Phone: (520) 281-2424
1191 N. Grand Ave., Nogales, AZ 85621
Avalon Chapel - Phone: (520) 742-7901
8090 N. Northern Ave., Oro Valley, AZ 85704