Maybe you've always wanted to play piano or perhaps you've even had some piano or other musical training.
I can help you with the following:
1. Motivation,
2. Fingering issues,
3. Practicing problems,
4. Timing troubles, or
5. Adjusting to keyboard when you are used to piano work
Besides, making your favorite music is something most folks can do for a lifetime.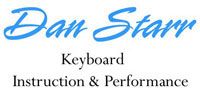 Dan Starr, Keyboard Instruction & Performance
4839 E. 4th St.
Tucson, AZ 85711
520-869-5466