Your life will be better if you make your favorite music with a digital piano or portable keyboard you CAN afford (rather than merely listening to it on your ipod or something!)
Now there are many ways to learn new things, such as crosswords or Sudoku, but I'd wager one of the best is to learn to play many of your favorite tunes on an inexpensive keyboard! That's what I teach folks, quickly!
Visit my website for more information
http://www.amazon.com/dp/B009NWRM9I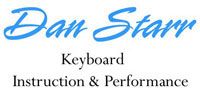 Dan Starr, Keyboard Instruction & Performance
4839 E. 4th St.
Tucson, AZ 85711
520-869-5466