Your love affair with music can last a lifetime. Music can decorate all your events. It can be used to relax after a hard day's work. and help exercise your creativity.
Science now shows that aging can be reduced by learning to play an instrument. I could have told them that already. Plus, there are many, many other advantages. You will discover them all.
http://www.amazon.com/dp/B004GEB00U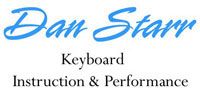 Dan Starr, Keyboard Instruction & Performance
4839 E. 4th St.
Tucson, AZ 85711
520-869-5466