My name is Dan Starr and I'm a Local. Actually, I'm a native of Tucson, Arizona. I'm a professional keyboardist, as well as an instructor. I want to convince you to learn how to play as a NON-professional. It's easy and fast that way. However, as I personally tailor what I teach to each person and I don't know you (yet!) you'll need to email or phone me and let me know what problems you have.
http://www.amazon.com/dp/B004GEB73K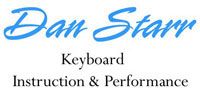 Dan Starr, Keyboard Instruction & Performance
4839 E. 4th St.
Tucson, AZ 85711
520-869-5466