Web Search powered by
YAHOO!
SEARCH
Color Me Mine
5870 E Broadway Blvd Suite 260 , Tucson, AZ 85711
520-790-1100
Business Overview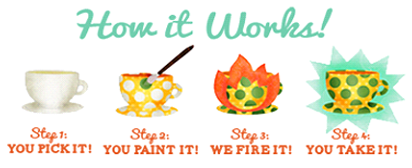 Everyone is an artist at Color Me Mine and our staff can show you how!
Special Offers & Events
Join us every Friday for Date Night! Bring a friend and their studio fee is FREE! 5-close, s…
Join us every Saturday night for Pajama Night! From 6-close wear your pajamas and receive 50…
We have many fun and exciting events coming up soon! Come visit us, relax, get creative and …
More Offers & Events
Find Us
Business Hours
| | |
| --- | --- |
| Sun | 11:00 am - 6:00 pm |
| Mon | 10:00 am - 9:00 pm |
| Tue | 10:00 am - 9:00 pm |
| Wed | 10:00 am - 9:00 pm |
| Thu | 10:00 am - 9:00 pm |
| Fri | 10:00 am - 9:00 pm |
| Sat | 10:00 am - 9:00 pm |
Recent Photos
More About Us
MORE ABOUT COLOR ME MINE
Bring the kids in for a fun filled time! Schedule a playgroup, daycare, or other preschool group for storytime by giving us a call. We would love to arrange a special storytime for your group of 8 or more! We also offer technique classes, or a simple painting time for your group of kids at either our location or yours.
Are you looking for a fun way to bring your coworkers together? Look no further! We have a fun and exciting exercise called "This Mug's For You!" that is sure to get the group working together. Each person writes their own name on a mug, and then passes it along to the next person who gets a chance to add their own touch to represent the mug's owner. Keep passing the mugs around until it arrives back at its starting place, filled with personality!

We also encourage you to customize your own group experience. Our creative staff can tailor an event to suit your needs…or paint your own!
We have many party packages to choose from! We welcome all types of parties, whether it's birthdays, anniversaries, bridal showers, baby showers, reunions, or housewarmings. We put the ART in PARTY!
Plan a painting day at your place! Simply select a day and we will come to your location. We will deliver everything you need for your guests to paint their own ceramics. Once finished, we'll take the pieces to have them glazed and fired, and you can pick them up at the store once ready. We have different packages; you're sure to find one that suits your needs!