Web Search powered by
YAHOO!
SEARCH
Camino Seco Pet Clinic
8860 E Broadway , Tucson, AZ 85710
520-296-6281
Fax: 520-751-4210
Business Overview
At Camino Seco Pet Clinic, we provide professional and caring pet services as well as emergency and urgent pet care that includes surgeries and hospitalizations.

Our goal here at Camino Seco Pet Clinic has always been to assemble a veterinary health care team committed to providing exceptional client service and veterinary health care. The Camino Seco Pet Clinic team displays an unrivaled commitment to our clients through continuing education, technological advances in veterinary medicine and service, and most importantly, administering compassionate care to all pets entrusted to us.

Visit our website to learn more about our dedication to your family and the quality veterinary medicine and service we provide. If you would like to schedule an appointment, please call 520-296-6281.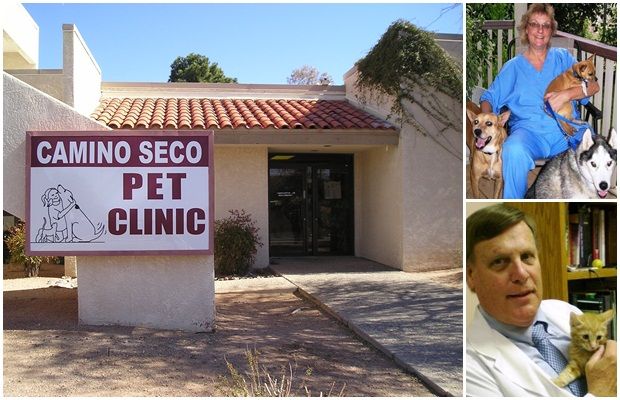 Special Offers & Events
February is Pet Dental Health Month - like us on Facebook and book an appointment and save i…
Your pet will receive a full Wellness Exam as well as any vaccinations your pet needs for th…
Find Us
Business Hours
| | |
| --- | --- |
| Sun | Closed |
| Mon | 8:00 am - 5:00 pm |
| Tue | 8:00 am - 5:00 pm |
| Wed | 8:00 am - 5:00 pm |
| Thu | 8:00 am - 5:00 pm |
| Fri | 8:00 am - 5:00 pm |
| Sat | 8:00 am - 12:00 pm |
Special hours: Call 520-296-6281 for after-hour clinic hours.
More About Us
Our Services
We're pleased to offer the following services in our Tucson Veterinary Clinic:
Appointments:
Our appointment book is computerized which allows us to efficiently make appointments for you and your pet. Our receptionist and team will attempt to accommodate all requests to the best of our ability. Emergencies are accepted anytime our clinic is open. If you feel you have an emergency with your pet, please call us or come to the hospital immediately. If possible it is best to call before coming in so that a staff member can advise you on your particular emergency.
Emergency & Urgent Care:
We have a veterinarian and personnel on duty 6 days a week who are trained and equipped to handle any urgent care your pet has. Usually an emergency team consists of at least one veterinarian and several technicians working together to save a pet's life. Emergencies can be things such as a snail bait poisoning, hit by car, or chocolate ingestion. If you ever feel that your pet needs emergency treatment do not hesitate to call or come in immediately. If possible it is best to call before coming in so that a team member can advise you on your particular emergency.
We are also available for urgent care when the condition is not life-threatening, but you feel your pet needs to be seen before you are able to get an appointment. Our veterinarians will work to "squeeze" you in between scheduled appointments. When you arrive, our receptionists will be able to give you an estimate on how long you may have to wait in order to be seen. If an emergency happens when our clinic is not open please feel free to call our emergency number given on the answering machine of our regular clinic phone.
Types of Pets Seen:
Because Camino Seco Pet Clinic has Dr.Kiesel's expertise we can care for many types of pets including:

• Dogs
• Cats
• Rabbits
• Pocket Pets
• Reptiles
• Birds
• Small Farm Animals*

*Call us at 520-296-6281 for more information.
Payments:
Camino Seco Pet Clinic accepts payment via cash, check, MasterCard, or Visa. So that we can continue to provide you high quality service utilizing the best medical technologies, we request that payment be made at the time services are rendered.
We provide estimates for all surgeries and hospitalizations. If you have not received an estimate, you are welcome to request one at any time for your expected charges.
---
---
MEET OUR TEAM
Dr. Edwin Kiesel - Veterinarian:

Dr. Edwin Kiesel opened the doors to Camino Seco Pet Clinic 1997 with the goal of providing great veterinary care to the pets of Tucson. He graduated with a Bachelor's Degree in Psychology from the University of Ohio in 1971. Three years later, he earned his Associate's Degree in Animal Sciences and followed that up with an additional Associate's Degree in Laboratory Animal Sciences, both from the University of Arizona. He soon decided to go all the way and graduated with his Veterinary Degree from the University of Minnesota in 1980. He has enjoyed every minute of being a veterinarian and has a special interest in surgery and orthopedics. In his spare time, he enjoys fencing and spending time with his family.
---

Mary - Veterinary Technician/ Office Manager:

I have worked at the clinic for 7 years now. Before coming to work at the clinic I worked for 25 yrs at Burr-Brown/Texas Interments. When I was laid off from my job and I wondered what I was going to do. I saw an add for Apollo Collage and thought that is what I wanted to do was work with animals, I have always loved animals.

I'm married and have a daughter and a step son. And along with my human family I share my home with 4 dogs and 6 cats and my Parrots. I also work with a Parrot rescue group here in town that places unwanted birds in new homes and we also do lost and found too. In my spare time I love to read, and just relax at home with my animals.
---